Our Tariffs
Ground Floor
Capacity
Hourly Rate
Daily Rate
Monthly Rate
YearlyRate
Open Desk
22 Seats
Rs.499
Rs.7,999
Rs.95,999
Private Cabins
2 Seats
Rs.799
Rs.13,499
Rs.1,61,999
2 Seats
Rs.799
Rs.13,499
Rs.161999
2 Seats
Rs.799
Rs.13,499
Rs.1,61,999
1 Seat
Rs.699
Rs.9,999
Rs.1,19,999
Confrence Room
6 Seats
Rs.499
Rs.1999
Loft Floor
Open Desk
13 Seats
Rs.399
Rs.5,999
Rs.71,999
Private Cabin
5 Seats
Rs.1,999
Rs.29,999
Rs.3,59,999
Office Timing
Mon-Sat 9.00am-8.00pm

Extra Hour Charges
Extra Hours INR 500excl.Taxes
*GST charges as applicable
Special Offer
Register For 12 Months and Get Additional 1 Month Free
Our Master Pieces
Loft Floor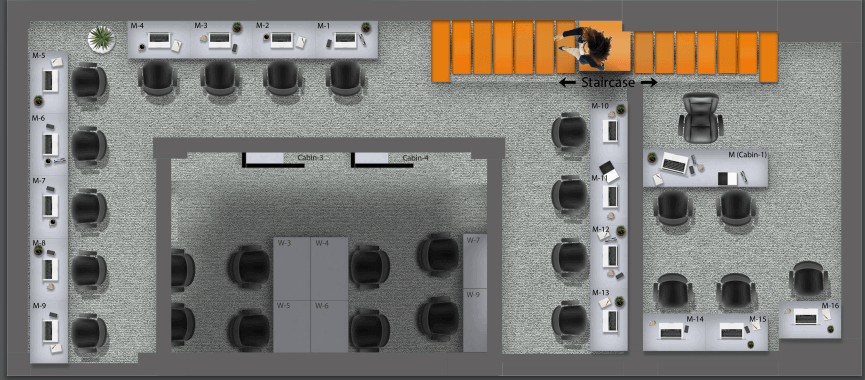 Ground Floor
Frequently Asked Questions
WorkCampus  working hours are 9:00 a.m. to 8:00 p.m. from Monday to Saturday and 10:00 a.m. to 5:00 p.m. on Sunday. We are open to provide access 24/7 subject to minimum of 10 Co-workers.
WorkCampus has a floor space above the Ground floor which has lower tariffs.
No, the pets ain't allowed at WorkCampus.
Yes, the internet is included at WorkCampus via Wifi.
You can start at WorkCampus either by book a tour or by getting registered with us.